community
There are many ways in which we gather in communities of all ages and people.
To be human is to be designed for community. To be a Christian is to be automatically part of the family of God with gifts to share in the church community and with the world at large. On the following pages, we see some ways in which we gather as community.
Through our pastoral care and teaching, through our involvement in mission, in all these things we discover more about the people we are created to be as individuals, and as a group in the Parish of Wisley with Pyrford.
coffee shop
Join us in the Coffee Shop, which is held in The Good Shepherd Hall at the Church of the Good Shepherd. The Coffee Shop is open on Friday mornings during term time between 9.00am and 12.00 noon, with cooked breakfasts served until 11.15am.
Everyone is welcome; please pop in whether for a cup of coffee and a slice of home made cake, a full English breakfast, or just for a chat.
No matter how old or how young you are, there is always someone to talk to.
The Coffee Shop operates on a donation basis.
Go for a full monty - they are great!
We are always looking for people to join the 70 strong volunteer base who make this ministry happen too.
Sunday lunches
Each month we hold a Sunday Lunch for all who would like to come. A chance to meet others, it is often attended by people who would otherwise be eating alone.
Transport can be provided if needed.
Please do notify of any dietary requirements when booking.
Places are limited so do book via the Parish Office. There is no set charge, but donations towards the cost gratefully received.
Our latest flyer can be downloaded here.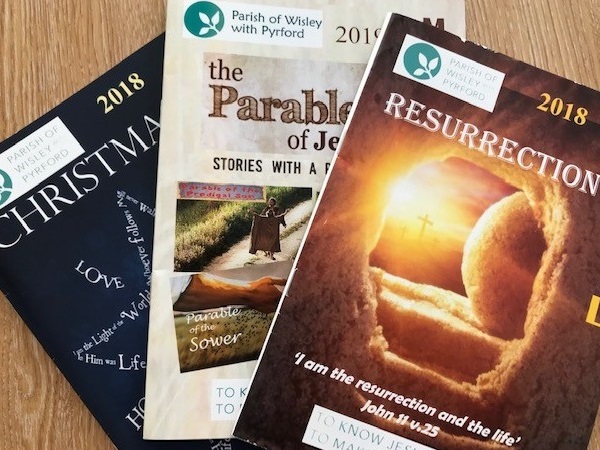 Parish Magazine
The Parish Magazine is published monthly and costs 60p except for the Christmas and Easter editions, which are free and are delivered to every home in the parish.
Each edition of the Magazine has a theme although articles are welcome on topics unrelated to the theme. The editors hope that everyone will contribute to the Magazine. Please do not wait to be asked!
If you have something to say, an experience to share or a concern to air please write about it in the Magazine. We are one church family and we should be talking to each other! As a rough guide 500 words, using Calibri 11pt, fill approximately one page in the Magazine but you can always write more, or less, than a page. If there are themes that you would like to see appear in the Magazine please do not hesitate to tell one of the editors. The regular editors are Eldon Sandys and Lianne Sherlock. Guest editors to take responsibility for an edition are always welcome. Any queries or interest contact Eldon or Lianne.
HOLIDAY at HOME
29th & 30th August
'Holiday at Home' is a two day event, for those more senior members of both our church and the wider community.
The cost for the whole event is just £20 and includes morning coffee, a two course lunch with a glass of wine, afternoon tea and cake, and all the entertainment and activities.
Transport is also included if required.
Do come and join us and invite your friends and neighbours too!
Booking forms will be available in June,
or for more information contact Claire Nix 01483 223986
SPRING HARVEST
Each year in April, a group of between 70 and 90 people from the parish go to Spring Harvest, in Minehead, for six days during the Easter school holidays.
Spring Harvest is a Christian teaching and worship event suitable for all ages, featuring a children's programme, adult teaching sessions and worship experiences each evening, as well as later after-hours entertainment for those who can stay up for it.
On top of the schedule of courses and teaching, there is a big social element, with restaurants, a swimming pool, funfair and the nearby coast and beach to enjoy.
Going with a church group is a great way to get to know each other and spend time together in a relaxed setting.
These are an opportunity for community, as our team involves people of all ages and experience. Do contact our Children and Families Minister if you think this may be a way for you to experience community like never before!